Ingredients: 
Filtered water
bees honey 10%
cold-pressed juices (ginger 2.5% and lemon 2.5%)
CO2
acidity regulator: citric acid
antioxidant: vitamin C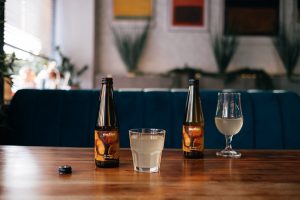 cocktail
Ginger & Gin
Take a glass of white wine and add ice, gin and Mellos ginger & lemon. Mix together and add fresh lemon juice. Decorate with herbs such as rosemary or mint and a slice of lemon. Cheers!
Mellos ginger & lemon
Gin
fresh lemon juice
herbs (rosemary or mint)
slice of lemon
ice