A perfect breakfast for demanding people
This is exactly what muesli is like, made from quality ingredients and full of flavor. Well, think for yourself: crispy gluten-free oatmeal sweetened with fragrant honey, scented with cinnamon, bee pollen and a good portion of dried fruit – apples, sour cherries and pears, which are treated only with citric acid and freeze-dried strawberries. The perfect sweet start to the new day.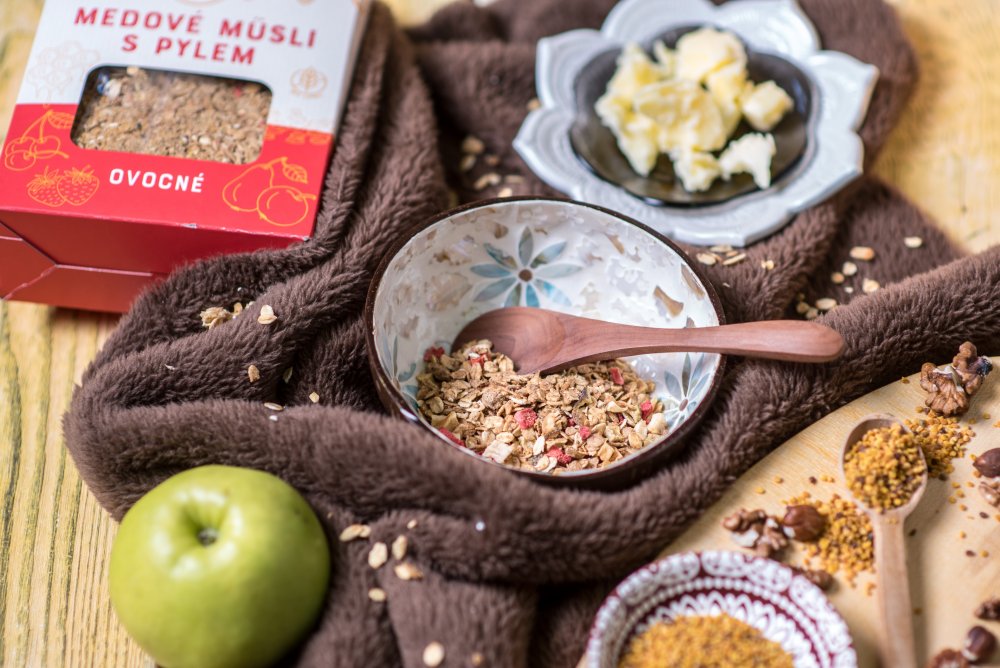 We prepared honey muesli with pollen in cooperation with the family company Janova pec. We like their human approach, the emphasis on first-class ingredients, and the fact that they were not afraid to fine-tune the muesli with us to perfection on many tastings. We devoted ourselves to the dose of pollen for quite a long time and searched for its ideal ratio. And we have good news, after dozens of tastings we found it, taste it!
Ingredients
gluten-free oatmeal (58%), flower pollen (12%), honey (8%), dried apples (7%), dried cherries (4%), dried pears (4%), olive oil (4%), freeze-dried strawberries (2%), cinnamon (1%). Apples, pears and sour cherries are treated with citric acid.
May contain traces of peanuts, dried nuts and shells. Gluten-free.